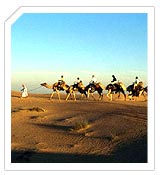 Places : Jaisalmer, Jodhpur, Bikaner (Rajasthan)

India is a land of diverse geography. The snow capped peaks in the north, the emerald green waters in the south, the evergreen forests in the northeast and the barren deserts in the northwest makes India very popular with the Adventure tourists. Similar to other extremes of Indian geography, the Great Indian Desert or the Thar desert in the extreme west of Rajasthan captivates numerous travellers to this land to experience the unique desert life of India.

To get a better insight into the lives and styles of the people in the culturally rich state there is no better option than taking on a camel safari. The ship of the desert makes you sail through the land of the sand. The pace of the safari make it possible for you to enjoy the minutest of detail in the land of citadels, colours and charming crowds.

The camel safaris in the deserts of India are fast becoming popular with the masses and have become the fastest selling adventure holidays. The theme of the adventure attracts all the adventure seekers who have a passion to experience India as it is. The hardships in the course of the safari go hand-in-hand with the novel manner of seeing the dry desert areas. In India the camel safari in the desert offers a lot more of fun and adventure. The region is a far more accessible as compared to its counterparts owing to the airports and railway stations that are close at hands to most of the popular sand dunes.

The Region for Desert Safari -
The desert safaris in India are centered on the princely kingdoms in the desert belt of India namely Jaisalmer, Jodhpur, and Bikaner, all of which are integral to the royal state of Rajasthan. Besides offering the awesome view of the open desert sands the camel safari is a great way to get introduced to the villages and the wildlife.

Precautions Required -
If the adventure in the sand along with the sun attracts you then take care of the extreme temperatures likely to be experienced during the safari. The afternoons are as hot as 30 degrees though later at night the temperature may drop down to as low as zero degrees. Thus you should be adequately equipped with the cotton and the woolen clothing. The clothes should be comfortable for the journey sans the luxuries but at the same time should consider the values of the rural habitants who will be visited in the villages.