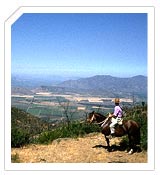 Places : Kumaon Region, Rajasthan.

Horse Safari though not very popular can be experienced at some parts of India. Horses are generally used to transport goods and men from one place to the other. Today, horses are also used to traverse through the dense forested areas, historical lanes, and fortresses and the remote villages.

Strong and well-maintained horses are nothing new to the travellers but a few could have taken such long trips on horse's back. Conditions are very similar to camel safaris. The horse safaris are taken in the north Indian states of Uttar Pradesh and Rajasthan. There are bonfires and entertainment provided by folk entertainers on the way. It is tiring but exhilarating experience.

The Major Regions for Horse Safari

The Kumaon Region : The horse safari in this region includes - a travel through the hills and gorges. You will also be taken to Nainital, Corbett areas. The travel through the breathtaking mountain peaks and green valleys will leave you spellbound.

Horses are generally not taken to the remote and dense areas of the jungle.

Rajasthan : In Rajasthan offers lot of possibilities for horse safari. While on your safari you will come across, numerous forts and palaces, havelis, lakes, desert, a wide motley of varied sites, which you might not find elsewhere. You can enjoy the horse safari in Jodhpur, Ranakpur, Kotri, Rohetgarh, Pushkar, Jaipur and many more places.

A horse safari will add a new zest to you travel experience. Riding a horse is not a very easy task, so you have to accompany an expert. There is maximum two members in one horse and lunch and breakfasts are carried to along with the safari. The safaris mostly move in groups. They move through the high and low lands, also through the remote villages, which gives you an insight into the local culture of the area.