Places : West Bengal, Assam, Madhya Pradesh, Rajasthan, Arunachal pradesh.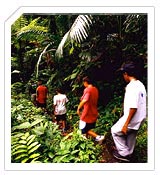 Safari is an adventure that takes any adventure seeker to explore the unexplored trails and unspoilt natural horizons of desert or country side or forests. One such safari is Jungle safari. It can also be defined as a forest trail, except that instead of walking, hiking or trekking, you have also got the options of exploring the forest regions via a jeep or a elephant or even on a horse.

Jungle safari not just involves exploring the jungles of a particular region. The options can involve national parks and wildlife sanctuaries and reserves as well as protective reserves. And you can also opt for wild camping as well as nature walks too. All in all saying hello to Mother Nature in the best possible ways. Staying in the jungle lodges provided by the various forests departments within the sanctuary areas is also the part of this safari deal and the best way you can enjoy your holiday to hang out in the Jungle area, relax and do nothing.

The Two Best Way to Explore the Jungles -

Jeep Safari : Jeep safari allows you to explore the jungle extensively. It is the fastest and the most comfortable mode of travelling through the jungle areas. If you don't have enough time in your hand then this the bets way to invade through the jungle life of India.

Elephant Safari : This is the most ideal way of touring inside the forest. Elephants are the best option to travel in the dense areas of the jungle and wildlife reserves. Though it is very slow as compared to the jeep safari, it is the most enthralling way to view the jungle life closely.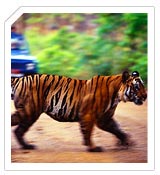 Major Destinations of Jungle Safari In India -
Pench has always been a favourite with Tiger-lovers the world over. The spread of this National Park is such that it becomes relatively easy to spot the elusive creature. The Jungle Safari tours makes one explore the park thoroughly an see some very rare sights, one would expect.

Another option includes the wildlife sanctuaries and tiger reserve of India, where you can either take up a jeep safari or an Elephant safari to check out the Tigers. Among the major tiger reserves safari are the Sundarbans in West Bengal, Manas Tiger Reserve in Assam, Sariska & Ranthmbore National Parks in Rajasthan and Corbett National Park in Uttaranchal.

Famous Jungle Safari Sites -
» Sundarbans, West Bengal
» Kaziranga National Park, Assam
» Manas Tiger Reserve, Assam
» Kanha National Park, MP
» Bandhavgarh National Park, MP
» Ranthambore National Park, Rajasthan
» Sariska wildlife Sanctuary, Rajasthan
» Bandipur National Park
» Namdhapha National Park