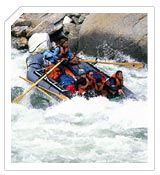 Places : Jammu & Kashmir, Assam, Arunachal Pradesh, Uttranchal, Uttar Pradesh.

Experience the thrill of white water rafting in India along tumbling snow-fed Himalayan rivers in summer destinations in India. White water rafting means cruising down the gushing waters of river in an inflatable rubber raft or white water kayak over roaring waves and swirling fast-moving water for the excitement of a lifetime. The Indian topography has full of possibilities for water sports. The perennial rivers and the rushing waters entices the water sports enthusiasts from all over. The Himalayas, stretching 3,200 kilometers along India's northern frontiers, cradle numerous rivers which drain them all year round with plenty of first-descent and exploratory possibilities.

The Major Destinations
River rafting in India is an enthralling experience that you can experience on your Indian Holiday. One of the best regions for river rafting in India is the stretch upto Rishikesh in Uttaranchal. White water rafting on the Alaknanda, Bhagirathi and Ganga rivers is a popular adventure tourism activity in summer in India. For the more adventurous traveler, white water rafting tours in India can also be organised on the Indus River in Ladakh and Brahmaputra River in Arunachal Pradesh.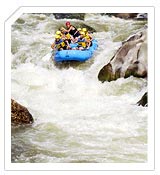 White water rafting in India on the Alaknanda River is the most easily accessible white water river rafting stretch from Delhi. In the state of Jammu & Kashmir, the river Indus, flowing across high altitude deserts, offers fascinating day trips based out of Leh, July till end of September is the best time to visit this region.


During May and June, visit Tons river base in western Uttaranchal, which is an appropriate destination to indulge in white water rafting.

In the hills of the state of Uttar Pradesh, the Ganga' and its tributaries make up for the most popular whitewater in India. Ganga option is ideal for the adventure sports lover, coming between October and April.

In Sikkim, the Teesta and Rangit rivers, besides day rafting trips, promise great kayaking potential, which is ideal between October to April. This is stretch is one of most visited by the white water rafters.

The river Brahmaputra, one of the greatest rivers in the world, offers exhilarating expedition through dense rainforests, tribal settlements and some great white water. The river Subansari, the biggest tributary of the Brahmaputra also offers a spectacular expedition through deep gorges and some of the remote parts of the state. The best season for these rivers is November to March.