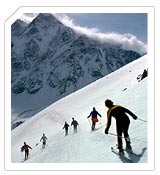 Places : Gulmarg (Jammu & Kashmir), Auli (Garhwal), Munsiyari (Kumaon), Himachal Pradesh.

Skiing is one sport that has gained immense popularity all over the world and in the past decade have become quiet attention grabbing sport because of the Himalayas. Skiing, like any other high-altitude adventure sports in India, is a contribution of the Europeans. The challenging height and the stretches of the snow clad mountains, with the added advantage of powdered snow are tempting enough to captivate the adventurous spirits of the avid skier, providing all the thrill and excitement attached to the game. Today, skiing is quite popular in the hill stations of North India and new facilities have added up to make it more popular among the masses.

Best Season for skiing : January to March

Major Destinations for Skiing -

Realising the immense prospect for tourism, India has developed some of the most modern and also the resonable ski resorts in the whole world. A plethora of ski locales in Jammu and Kashmir, the hills of Kumaon, Himachal Pradesh and the North eastern states of India have become the favourite ski hideouts of adventure lovers.


Skiing in Gulmarg, Jammu & Kashmir :
Gulmarg is the ultimate beginner's skiing resort. Just find yourself a ski instructor and set off down a slope. The longest ski run in Gulmarg is provided by the Gondola cable car, which allows a ski run of 2,213m.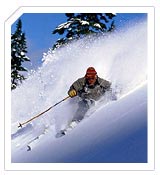 Skiing in Auli, Garhwal :
Snow capped slopes of Auli are flanked by all, dense deodar forest which cuts wind velocity to the minimum 16-kms from Joshimath on the Badrinath route, Auli offers a 180 panoramic view of Himalayan peaks like the Nanda Devi (7,817m) Kamet (7,756m) Mana Parvat (7,273) and Dunagiri (7,066m) seemingly only a snow ball thrown away. The slopes at Auli provide excellent opportunities for cross country and downhill skiing events.

Skiing in Munsiyari, Kumaon :
Munsyari is situated at a distance of 66 kms. from Jauljibi and 127 kms. from Pithoragarh via Thal. Munsyari is the center as well as the gateway of the Johar region. Munsyari is the base of treks to Milam, Namik and Ralam glaciers. Khalia Top and Betulidhar are two high altitude places that offer excellent condirions for skiing.

Skiing in Himachal Pradesh :
Manali, Kufri & Narkanda in Himachal are the ultimate destinations for the avid skiers. The Manali Region in Himachal Pradesh also offers scope for winters as well as summer skiing. It has excellent natural slopes and in the summer months has limited skiing possibilities at Narkanda. Last but not the least is Kufri, which has always been a favourite among ski lovers who visit Shimla in winters. So prepare your skies and zoom through the snow.

Skiing Gears
The basic skiing gear that is counted for skiing is the flexibility of the clothing. The fabrics that can keep the body's temperature balanced according to the outside climate. Other skiing gear items required during skiing are ski goggles, ski helmets, ski socks, and skies.