TIBET is one of the world's most extraordinary destination and there is adventure indeed lurking around almost each and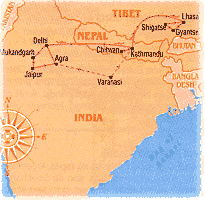 every corner. We present here short itineraries that start with the world 's most scenic flight over the mighty Himalayas from Kathmandu to Lhasa. The capital lies high in the arid wilderness of the Tibetan mountains, it's name the "Roof of the World" is no idle statement. The valley bottoms of Tibet are higher than the highest mountains elsewhere . It's snow covered plateaux are the highest in the world , and apart from the Everest , which Tibetans see from 'the other side', many mountains are over 15000 feet.

Adventure on the road , is never short , on the Trans-Himalayan drive of over 970 kilometers and four mountain passes, promising a panorama of culture & scenic diversity unsurpassable anywhere.

All these climates on, an arid plateau a religious treasure trove of Buddhist Monastries as - the Drepung, Once the largest; the Jokhang - a spiritual center & the awesome palaces of Norbulingka (the summer palace of the Dalai Lama ) or the Potala Palace ( the traditional seat of Dalai Lama ) envelope us. Ancient Barkhor Bazaar still barters the bric - a - brac in this region that's not so much a little strange as utterly surreal.

The unforgettable Himalayan drive, which starts in the lush green valley of Kathmandu at a mere 1200 m, crosses passes of over 1540 m, as it winds its way to the harsh , stark plateau of Tibet. This stunning 970 km drive to Lhasa, crammed with some of the world's highest peaks , against clear azure skies , traverses over extremely harsh terrain - an 'endurance rally', with the most rewarding sights quite unsurpassable anywhere in the world. 5000 m mountain passes unveil in Yamdrik Tso, a glinting turquoise - cut & polished, set in a nugget of gold amongst rugged brown hills is one of the most breathtaking drives in the world.