| | |
| --- | --- |
| | Hotels in India |









Home » Indian Cities » Cities of North India » Delhi
Back » Delhi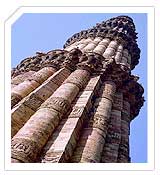 Delhi, the capital of India has a fascinating history and a stimulating present. Delhi is fine amalgamation of old and new. The old city, built by Shah Jahan in the 17th century, stands today as an epitome of the whole history of Indo-Islamic architecture. New Delhi, designed and constructed by Sir Edwin Lutyens and Sir Herbert Baker is a mixture of East & West.

Old Delhi presents old world charm whereas New Delhi reflects the new world extravaganza. If you tour in the Old Delhi you will come across old fashioned narrow alleys with small and big shops of various items.

Sightseeing In Old Delhi -

Red Fort : Built in Red Sand stone between 1639 - 1648 AD, this imposing fort is 3 kms in perimeter with the height of the wall fluctuating from 18 to 30 m at places. In the evening the Delhi Tourism Department organises a light and sound show which narrates the history of Delhi in context of the Red Fort. The light & sound show organised here is worth seeing.

Chandni Chowk : Located just opposite to Red Fort, this is the place where you can enjoy the old world charm. The hurrying crowd, the shouting vendors and overcrowded shops are the real charm of this place. You can find all types of items starting from textiles, jewelry, home furnishings, spices, household items to electronics, chemicals, ceramics, electrical, etc. Though, very crowded and congested , it is worth visiting.

Jama Masjid : Jama Masjid built in 1650 AD by Shah Jehan (the Vth Mughal Emperor) is one place in Delhi which is a must visit. One of the Architectural beauty of the past, Jama Masjid is one of the largest mosques not only in Delhi but in India. Completed in 1658 this Mosque has three gateways, Four angle towers and two 40 m high minarets. From the top of minarets you can have a birds eye view of Delhi.

Raj Ghat : Along the banks of the river Yamuna is located the place where the father of the nation, Mahatma Gandhi, was cremated. The Raj Ghat is one of the most visited Ghats. A simple square platform of black marble marks the spot where Mahatma Gandhi was cremated after his assassination in 1948.

Sightseeing In New Delhi -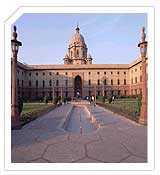 Qutab Minar : Qutub Minar is the most recognised landmark of Delhi. In 1199 AD, Qutbuddin erected the Qutub Minar either as a victory tower or as a minaret to the adjacent mosque. From a base of 14.32 mtrs. it tapers to 2.75 mtrs. at a height of 72.5 mtrs. Even today, it is the highest stone and one of the finest stone towers in India. Completed by the Sultan's successor and son-in-law, Iltutmish, Qutub MInar is the finest Islamic structures ever raised. The tomb of Iltutmish, which he himself built in 1235 AD, is located nearby.

The Lotus Temple : Completed in 1986, the Lotus Temple or the Bahai temple is set amidst pools and gardens, and adherents of any faith are free to visit the temple and pray or meditate silently according to their own religion. The structure is in lotus shape so it often called the lotus temple. The view of the temple is very spectacular just before dusk when the temple is flood lit.

India Gate : India Gate is a 42 mtrs high stone arch of triumph. It bears the name of the 85,000 Indian Army Soldiers who died in the campaigns of World War I. Below the arch is the memorial to the unknown soldier. India Gate is surrounded by green grass lawns and trees. A place you should not miss.

Jantar Mantar : Close to Connaught Place is a strange collection of astronomical instruments. Built by Maharaja Jai Singh this structure is actually an observatory. The astonishing part of these observatories is that they can calculate many astronomical movements very accurately.

Old Fort : It is believed that the Pandavas had built their capital, Indraprastha at the place where the old fort stands today. This fort, now in ruins, was the seat for administration for many emperors. The legendary Prithviraj Chauhan ruled from here till he was defeated by Abdali in the battle of Panipat. A new light & sound show is held by the Department of Delhi Tourism every evening.

Reaching Delhi -

Air : Agra, Ahmedabd, Amritsar , Bhopal, Aurangabad, Bangalore, Bhubaneswar, Calcutta, Chandigarh, Chennai, Cochin, Goa, Gwalior, Hyderabad, Indore, Jaipur, Jammu, Jodhpur, Khajuraho, Kullu, Leh, Lucknow, Madras, Mumbai, Shimla, Srinagar, Trivandrum, Udaipur, Varanasi.

Train : Udaipur, Jodhpur, Jaipur, Bikaner, Agra, Jhansi, Bhopal, Gwalior, Varanasi, Chandigarh, Jammu, Bombay, Calcutta.

Road : Delhi boasts of well defined road network. It is easily accessible from the nearby states and places.