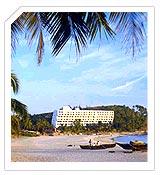 Travel Goa, the coastal paradise popular for its silver sand beaches, cosmopolitan lifestyle, fenni, fairs and festivals. Fairs and Festivals are a part of life in Goa. Come & Enjoy your travel to Goa and be part of the festivity.

Tour Goa and experience the best time of your life. Travel to the charming cities of Goa, marked with sun-kissed beaches, Latin styled red roofed houses. The cities in Goa provides breath-taking sights to the tourists. The unique architecture of Panjim, the old-worldly charm of Margao, the colourful bazaars, the lively culture, the tasteful cuisine, all together mesmerizes the tourists on their tour to Goa. All the cities of Goa are distinct in their own sense and offer an enchanting experience.

People generally visit this small state to laze around the beautiful beaches and indulge in the water sports. Beaches of Goa are much ahead of other beaches in India in terms of popularity and the facilities that are available here. The beautiful beaches of Goa are the best place in India to laze around in the winters and hence thronged by thousands during the winters.

Goa is a paradise for those who love water sport. The long coastal area offers a wonderful opportunity to indulge in all sorts of water sport activities.

In all, the temperate climate, the bracing sea, the ampleness of sights, the wide possibilities of water sports, the inviting surroundings and much more, makes Goa one of the most selected tourist destinations in India.