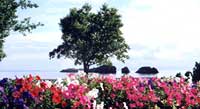 Dalhousie is a beautiful hill station in Himachal Pradesh. Established in 1854 by the British Empire in India as a summer retreat for its troops and bureaucrats, the town was named after Lord Dalhousie who was the British Viceroy in India at that time.

Dalhousie is built on and around five hills. Located on the western edge of the Dhauladhar mountain range of the Himalayas, it is surrounded by the beautiful scenery of snow-capped peaks.

The best time to visit is in the summer, and the peak tourist season is from May to September.

Getting There -
By Air : The nearest airport is at Gaggal (Kangra), 140-km from Dalhousie.
By Rail : The nearest railhead is Pathankot, which is well connected to Amritsar, Jammu, Delhi and Jalandhar.
By Road : Onward journey from Pathankot to Chamba and Dalhausie is by road. Punjab and Himachal Roadways run services, as do private operators.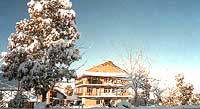 Place Of Interest

Panjpulla : Just 2 km away from the town lies the 'five bridges' memorial, built in memory of Ajit Singh, one of India's well-loved freedom fighters. A natural tank and creams give the spot a fitting serenity.

Jandhri Ghat : Around half a kilometre away from the Subhash Baoli, Jandhri Ghat enfolds an elegant palace in the midst of tall pine trees. Chamba's erstwhile rulers governed from here till the advent of Lord Dalhousie. The palace houses a number of shikhar trophies. Beside the palace, Jandhri Ghat offers heavenly spots for picnicking-gushing streamlets in the midst of fragrant pine-scented breezes.

Kalatope : 5 Km from Dalhousie, Kalatope is a pleasant getaway, with a panoramic view, an enchanting palace, and a forest rest house. Kalatope is situated 10-km away from G.P.O. Square at an altitude of 8,000-ft. Walking along the secluded and forested road through upper Nakorota hills, one reaches Lakkarmandi.

Bara Pathar : Set amidst thick forest is the small temple of Bhulwani Mata, in the village of Ahla, on the way to Kalatope. A fair is celebrated in July to venerate the goddess. It is 4 km away from the town.

Khajjiar : Just 27-km from Dhoudar the beautiful little plain of Khajjiar is one of the favourite retreats for visitors. The saucer-shaped meadow, ringed by pines, has a lake set in the middle, complete with a floating bland.