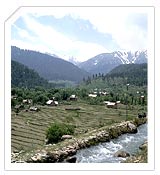 Gulmarg or "the Meadow of Flowers," is a charming hill station at 2,653 m, situated at a distance of 51 km from Srinagar, amidst tall pines, gigantic firs and the snow-moulded mountains. As the month of spring arrives, the slopes get a carpet of daisies, buttercups, blue bells and other blooms, making the surroundings appealing. The Mughal Emperor is said to have once collected as many as 21 different varieties of flowers at Gulmarg.

With the arrival of winter, Gulmarg is transformed into a Zion for skiing, skating and tobogganing. The resort has a 2,000 m long ropeway and boasts of having a highest golf course in the world. The buses go directly up to Gulmarg in summer and in winter too, provided the road is clear. An 11 km circular walk girdling Gulmarg runs through pine scented woods which offers panoramic views of Naga Parbat, the Harmukh and the sunset peaks in the north.

What To Do In Gulmarg
Trekking : Gulmarg makes an excellent base for trekking in the northern Pir Panjal Range. Nanga Parbat can be seen to the north from several view points, including Khilanmarg, west and over 1,500 ft up the forested hillside from Gulmarg. From a distance, the Pir Panjal appears somewhat rounded, but when you are actually walking up its slopes, you will find that its smoother peaks rise above evergreen clad slopes that seem quite equal in steepness to those of the main Himalayas.

Golf Courses In Gulmarg : Situated at an altitude of 2,650 m, Gulmarg has got the highest green golf course in the world. The layout of the course is quiet striking and the layout is similar to a normal golf course with land slopes and inclines along the complete area of the course, which has a par of 72.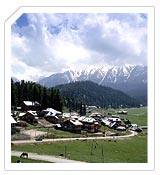 Skiing Adventure In Gulmarg : Gulmarg is also considered among the best skiing resorts in India. Ski enthusiasts can easily find out all required gear and equipments as well as professional ski instructors in Gulmarg, to try out a hand on skiing. The longest ski run in Gulmarg is provide by the Gondola Cable Car, where skiers can swoosh down the slopes from the height of 2, 213 m.

Best Season to Visit : The best time to visit Gulmarg is during summers between April and June.

Reaching Gulmarg

Air : Gulmarg is in Baramula District and is 56-kms from Srinagar and Sonamar is 81-km from Srinagar. The nearest Airport is situated in Badgam District, which is well connected with all the major cities of India.

Rail : The nearest railhead is at Jammu.

Road : All sorts of transport are available to Gulmarg from Srinagar bus stand at Batmallo and from private transport operators. Bus services to Sonamarg are available from Srinagar and Anantnag.