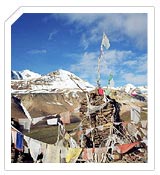 Situated in the central parts of the northern state of Himachal Pradesh, Manali is at the head of the Kullu valley. In Manali, one can find high mountains shrouded by silent snows and deep boulder strewn gorges. There are thick forests, filled with cool breezes and bird song. There are fields of wild flowers, small picturesque hamlets and fruit-laden orchards, especially apples. Manali is also famous for adventure sports like skiing, hiking, mountaineering, paragliding, rafting, trekking, kayaking, and mountain biking.

Best Season to Visit :
Throughout the Year.

Sightseeing at Manali -

Vashisht Ashram : It's a lovely little village, about 4 km by road up the hillside from the Mall. There are several decaying temples in the village dedicated to the sage Vashisht Muni and the Lord Rama.

Jagatsukh : Situated about 6 km from Manali, it was originally known as Nast, which was capital of Kullu for 10 generations. Famous for a Shiva temple in shikhara style.

Gayatri Devi and Devi Sharvali Kothi : About 12 km from Manali, this is a picturesque spot. Rest house overlooks the narrow valley and offers view of mountains.

Rohtang Pass : This is about 51 km from Manali. Rohtang Pass is the gateway to the Lahaul and Spiti valleys and the second entry point to the tribal region.


Reaching Manali -

Air : The closest airport is Bhuntar, 9 kms from Kullu and 49 kms from Manali. Jagsons and Archana Airlines have regular flights on the Delhi, Chandigarh and Kullu sector.

Rail : One of the convenient ways to go to Manali is to travel upto Chandigarh, one of the Shatabdi points and then travel up by bus. Alternatively one can travel upto Pathankot in broad gauge lines and then reach Manali by surface via Mandi and Kullu.

Road : Manali is connected with Shimla, Chandigarh, Delhi - Pathankot, Dharamshala and many towns in Himachal, Punjab and Haryana with direct bus services. During summer months direct buses are also available for Keylong in Lahaul and Kaza in Spiti valley.

Shopping In Manali -
Manali's specialty are Himalayan handicrafts - such as prayer wheels, amulets, masks, musical instruments, rosaries and thangkas. Woollen goods are the town's forte, particularly the brilliantly patterned shawls for which Kullu valley is famous. The Tibetan market, spread around the back of the Hotel Ibex, has many stalls that sell shawls. Manali's main street, the 'Mall' is a noisy scene of constant activities fronted by the bus station, several shopping markets, and a line of hotels, restaurants and travel agents. Gompas or Buddhist Monasteries are seen at the southern edge of the town.