| | |
| --- | --- |
| | Hotels in India |









Home » India Travel » Temples in India
Back » Temples in India
India, the spiritual land of saints and sages is home to a large number of temples, which adorns its landscape since time immemorial. In India almost every corner of the roads and alleys have temple dedicated to some of the Hindu Gods and Goddesses. There are several cities of temples, which are known for large number of temples dating back to ancient times. There are temple, the origin of which are still unknown, there are temples which connects today to ancient day, there are temple which are said to be built be Gods and Goddesses, there are temples which are said to created by the nature itself, there are temples cradled in the unaccessible snow capped mountains and there are temples submerged in sea, there are temples amidst dense forest covers and there are temples amidst rugged deserts, the list is almost endless.

Since ancient times, temple building has been a thing of pride for the riches. We find in the history of India, that there were many kings who erected numerous temples, which are still the architectural wonders studded to the sacred landscape of India.
Temples in North India
North India known as the land of Gods & Goddesses is believed to be the most holy land with numerous ancient and modern age temples. The sacred cities, towns and villages of north India are home to large number of temples, which are some of the most revered religious sites of India. Starting from Vaishno Devi Temple and Amarnath Cave temple in Jammu & Kashmir to the Golden Temple of Amritsar, from Chardham of Garhwal Himalayas to the Kashi Vishwanath Temple of Varanasi, from the temples of Mathura & Vrindavan to the Brahma temple of Pushkar Rajasthan will keep you occupied throughout your temple tour of India. Also visit the Buddhist monasteries of Ladakh and Himachal Pradesh, all of which are worth seeing..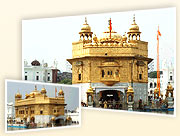 Temples in south India
South India boasts of several temples with awesome architecture of the past and present. The land of temples, south India is known worldwide for its temple architecture which are not only a sight to behold but also an inspiration for the architects, designers and artists. Visit any part of south India and see some very exquisite architecture, showcasing some matchless piece of sculpture and paintings. Travel to Tirupati, the richest temple in the world, also visit the Meenakshi temple, the architecture wonder, and make your Temple tour of India absolutely satisfying.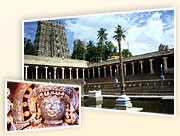 Temples in Central India
Central India is glorified in every historical text of India for its ever dazzling Khajuraho group of temples, which exhibits some of the most spectacular sights to see in India tour. Khajuraho group of temples are just matchless and when viewed will leave you awestruck. The sheer magic curved out of stones are full of life and stirs one's senses once behold.