| | |
| --- | --- |
| | Hotels in India |









Home » Wildlife in India
Back » Wildlife in India
The diverse land of India, is a haven of flora, fauna and avifauna. Due to its diverse geography and kaleidoscopic climatic conditions, India is the second largest country on the earth to have such diverse life forms. The legacy of bountiful wild animals includes 550 mammals, 30,000 insects and 2000 species and sub-species of birds, with over 500 species of reptiles and amphibians. In order to protect the several endangered species, several wildlife reserves have been established. Travel to the national parks, wildlife sanctuaries and other wildlife reserves to unravel the mysteries of Indian wildlife.
Wildlife in North India
The rich forest area of north India is abundant with some very exotic wildlife species in the world. Travel to the wildlife zones of north India and meet most ferocious and rare to find animals in their natural habitats. Travel to Corbett, Ranthambhore, Sariska or Keoladeo, the most treasured wildlife reserve of north India.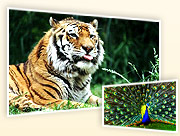 Wildlife in South India
South India is rich in wildlife preserve. The dense forest areas of south India is home to several mysterious wildlife species. Tour to Periyar, Bandipur or Nagarhole, all of these will make your Wildlife south India tour absolutely thrilling.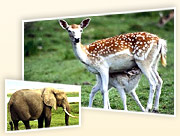 Wildlife in West India
Central India covers some of the most dense forest areas of India. The dense forest areas and their wildlife of central India once inspired Rudyard Kipling to right the most famous and most loved "Jungle Book". The wildlife sanctuaries of Bandhavgarh and Kanha are few of the very best options to meet the wildlifes in their natural habitat.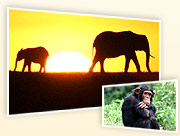 Wildlife in Central India
Western region of India has numerous national parks and wildlife reserves, that are home to several rare to find species of the world. Visit the Gir National Park and Pench National Park in west India and make your India wildlife Tour completely satisfying.