| | |
| --- | --- |
| | Hotels in India |









Home » Outbound Tours » Malayasia
Malaysia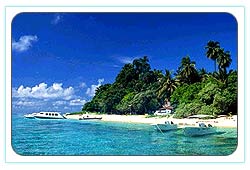 Malaysia is one of the rapidly growing economies in the world which is located in the heart of South-East Asia and comprises of two parts namely Peninsular Malaysia, bordering with Thailand in the North and Singapore in the South; and East Malaysia, with the states of Sarawak and Sabah sharing the island of Borneo, with Indonesia.

Malaysia is one of the most pleasant and peaceful countries to visit in South-East Asia. Malaysian society stands on a lively and interesting fusion of Malay, Chinese, Indian and indigenous cultures and customs. Malaysia is a land of fascinating sights and attractions. Rich in colour and contrasts, her multi-faceted charm provides intriguing images that leave visitors to the country in awe. The natural warmth of Malaysians is legendary; wherever one goes, the friendliness and hospitality of the people would prove to be a very special experience. Malaysia is paradise blessed with sun-drenched beaches, enchanting islands, diverse flora and fauna, forest retreats and magnificent mountains. A land of many colours is a popular holiday destination.

Culture
Malaysia is a predominantly Muslim and conservative country, and observance of local customs and behaviour is appreciated. Modesty of dress in public places is expected. For formal or semi-formal occasions men can go for a long-sleeved batik shirt. Outside beach resorts women should not wear dresses or very short skirts or shorts. Topless sunbathing is not acceptable at the beach or poolside. Check the required dress code before entering any place of religious worship. While visiting a Malaysian home it is customary to remove footwear. When trekking one must take care of the wildlife and environment. The Malays are warm, friendly but often shy. Expression of anger or impatience are frowned upon by both Malays and Chinese.

When to Go
One should avoid the November to January rainy season on Peninsula Malaysia's east coast. The time to see turtles on the east coast is between May and September.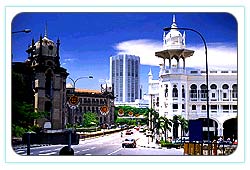 Climate
Close to the Equator, Malaysia occupies two distinct regions: Peninsular Malaysia, extending from the Thai frontier to the border of Singapore; and the States of Sabah and Sarawak on Borneo's northern coast. At lower altitudes the weather is normally warm, humid and sunny year-round, with temperatures hovering around 32°C by day and 22°C at night. The seasons follow the monsoon winds. Rainfall is erratic in nature as it comes in quick, heavy downpours, followed by sunshine within the hour. On the west coast of the Peninsula the rainfall is from September to December. On the east coast and in Sabah/Sarawak the monsoon rains normally occur between October and February. At higher altitudes (in hill-stations, for example) temperatures are much lower, with averages of 23°C by day and 10°C by night.

Major Attractions

Kuala Lumpur : This ancient city has grown to a modern, bustling city of almost two million people, is the focal point of new Malaysia. The city's bustling streets, its modern office towers, and its cosmopolitan air project reflect an unbounded spirit of progress and symbolize Malaysia's leap into a bright future. The city brings together Malaysia's past and present, its many constituent cultures, and even its remarkable natural treasures, allowing first-time visitors an invaluable opportunity to see Malaysia as a whole before setting off to explore its parts.

The botanical and bird parks of the Lake Gardens provide a glimpse of the unspoiled beauty and variety of Malaysia's plants and animals. The vibrant Central Market, the National Museum, music, crafts, and cultural practices from Kelantan to Sarawak can be explored and experienced in the city.

Cameron Highlands : The centre of Peninsular Malaysia, comprises a series of hill stations at altitudes between 1500-1800m (4920-5904ft). This fertile area is the centre of Malaysia's tea industry and it's the place where locals and visitors come to escape the heat of the plains.

Georgetown - Penang Island : This is one of the country's premier resort areas which is 285 sq km (177 sq mi) in area and is located off Peninsula Malaysia's northwestern coast.

Penang Island is marked also because of the vibrant city of Georgetown on the island's northeastern coast which has more Chinese flavour than either Singapore or Hong Kong.