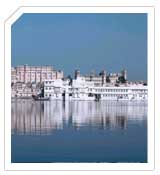 In Udaipur, the visitor finds his dream of India come true for the city combines real beauty with picturesque associations of a great and glorious past. It stands in a valley, amid green hills on the banks of the wide blue lake Pichola. On little islands in the lake, from the water's edge rises marble Palace in pure white which glistens like a fairy castles. Crowning the ridge, in which the city clusters, along the shores of the lake is the Palace of the Maharana. Within the palace is all the magnificent views of the panorama below.

Best Season to Visit : September-March

Sightseeing at Udaipur -

The City Palace : City Palace is imperial with its multicoloured mosaics, mirror work inlaid tiles and roof gardens. Courts, fountains, apartments and gardens embellish them and decorated with arabesques of coloured stones, they are startling pleasure palaces, a rich experience that can now be captured as they have been converted into modern resorts.

Lake Pichola : Maharana Udai Singh II extended the serene Lake Pichola and constructed a masonry dam (Badipol), about 4 km long and 3 km wide, it is not deep - it often dries up in times of severe summers. Fortunately, this doesn't happen often. The City Palace lies by the eastern shores of the Pichola. Here, you can wander along the bathing and washing ghats by the lakeside. Pichola has two islands - Jagniwas and Jagmandir. Boat shuttles to and from the City Palace jetty (Bansi Ghat) are popular.

Lake Palace : Jag Niwas, the Lake Palace, is the most prominent of these and rivals one of the most luxurious apartments in the world. Laxmi Niwas and Shiv Niwas are smaller palaces, but exquisite in detail and idyllically located.

Other sightseeing of Udaipur includes visits to Sahelion ki Bari, a drive around Fateh Sagar Lake, Jagdish Temple and Gulab Niwas Garden.

Reaching Udaipur -
Air : Well connected with Delhi, Jaipur, Jodhpur, Mumbai, Aurangabad airports.
Rail : The railhead here is well linked to Delhi, Ahmedabad, Chittaurgarh, Jaipur railheads.
Road : Ahmedabad 262 km, Bombay 739 km, Delhi 670 km, Jaipur 407 km, Chittorgarh 115 km and Mount Abu 185 km. The roads are well connected.