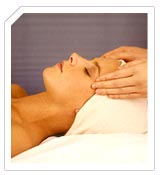 Ayurveda
Ayurveda evolved around 5000 years ago in India. Ayurveda literally means "science of life and longevity." It is a traditional holistic system of medicine and health care. It's a unique, indispensable branch of medicine - a complete naturalistic system that depends on the diagnosis of your body's humours - vata, pitta and kapha - to achieve the right balance.

Ayurveda believes in the treatment of not just the affected part, but the individual as a whole. Making it the natural way to refresh yourself, eliminate all toxic imbalances from the body and thus regain resistance and good health. It looks at healing in holistic fashion. The physical treatment has overtones of physical and psychological approaches too. Any ailment of the body is seen as a combination of factors with special reference to the components of diet.

Kerala Ayurveda
Kerala is known as the land of Ayurveda for its abundant Ayurvedic Centres for treatment of various diseases. Kerala's amiable climate, abundance of forests (pregnant with herbs and medicinal plants), and the cool monsoon season (June - November) are best suited for Ayurveda's curative and restorative skills. In fact, today, Kerala is the only State in India which practises this system of medicine with absolute dedication.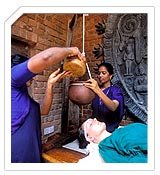 Diseases Ayurveda can Cure
Ayurveda can cure all type of the problems e.g. Kidney problems, Chronic Spondylosis, arthritis, Breathing problem, some types of cancer or tumor, Mental disorders, ENT problems, skin problem, and even infertility and gynecological problems (around 6 months courses).

Best Season to Rejuvenate
Traditional texts say that the monsoon is the best season for rejuvenation programmes. The atmosphere remains dust-free and cool, opening the pores of the body to the maximum, making it most receptive to herbal oils and therapy.

Ayurvedic Centres in Kerala
Entire Kerala is abound with several Ayurvedic centres, which practices the age old treatment of body, mind and soul. Trivandrum, Kottayam, Kochi, Kollam, Ernakulam, Idukki, Alappuzha, Munnar, Kumily, Kumarakom, Thrissur, Kovalam, Varkala, Kottakkal, Kappad are some of the places, where you will find numerous centres of Ayurvedic treatment.