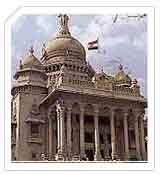 Bangalore is the principal administrative, cultural, commercial and industrial centre of the state of Karnataka. The city, which is spread over an area of 2190 sq km, enjoys a pleasant and equable climate throughout the year. It is now home to more than 250 high-tech companies. Including homegrown giants like Wipro and Infosys. The continuos technology boom has made Bangalore the Silicon Valley of India.

Also known as the Garden City of India, Bangalore is a beautiful city filled with the tranquillity of its greenery. The Lalbagh garden is particularly beauliful and well laid out. It has one of the largest collections of exotic Indian Tropical and Sub-tropical vegetation, Lakes and Lotus-filled pools. Cubbon park, Bull temple, Mysore arts & crafts centre are worth visiting.

Sightseeing at Bangalore :

Vidhana Soudha : An imposing edifice housing the State Legislature and the Secretariat of Karnataka, this is one of the best-known landmarks of Bangalore.

Tipu's Palace : Built in 1791, Tipu Sultan's summer retreat is a two-storied ornate wooden structure with fluted pillars, cusped arches and balconies. It now houses a museum that contains artefacts relating to the Hyder-Tipu regime.

Bangalore Palace : Modelled on the lines of the Windsor Castle in England, the Bangalore Palace flaunts turreted parapets, battlements, fortified towers and arches. Entry to the palace is restricted.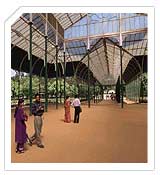 Lalbagh Gardens : Take a stroll in this 240-acre park, which is home to India's largest collection of rare tropical and sub-tropical plants, as well as many centuries-old trees. It contains one of Kempegowda's watch towers, a surreal lawn surrounded by Snow White and the Seven Dwarfs, an ornamental clock, a beautiful lake, a topiary park, a charming wooden bandstand and a glasshouse modelled on London's Crystal Palace.

Cubbon Park : Cubbon Park provides Bangaloreans with over 300 acres of sprawling greenery in the heart of the city. The park houses the State Library, an impressive, red Gothic structure, and is dotted with fountains, statues, flowering trees and shady groves.

Government Museum : Acclaimed as one of the oldest museums in the country, this museum houses an amazing collection of archaeological objects, including stone carvings, pottery, weapons, paintings, coins, textiles, sculptures, inscriptions, stone carvings and weapons.

Gavi Gangad Hareshwara Temple : Built during Kempegowda's reign, this unique cave temple contains a granite moon; sun-disc monoliths; a stone umbrella; a Shivalinga; and three cave passages. Every year, during Makara Sankranthi, this cave temple witnesses a strange phenomenon when a ray of light passes precisely through the horns of the stone bull outside the temple and illuminates the deity inside the cave.

Best Season to Visit : Through out the year.