| | |
| --- | --- |
| | Hotels in India |









Home » South India » Andhra Pradesh » Cities » Hyderabad
Back » Hyderabad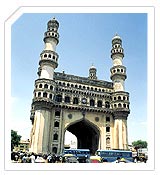 Fondly called the 'city of Nawabs' Hyderabad offers a captivating combination of tradition and trend to the tourists and travellers. Hyderabad is one of the most rapidly growing cities of India. The IT hub in Southern Indian state of Andhra Pradesh is easily accessible. Regular flights, frequent trains and the excellent road network make Hyderabad a great travel destination.

Sightseeing at Hyderabad

Charminar : This is the landmark structure of Hyderabad. Located in the heart of the city the galleries and arches of Charminar are of great importance to the tourists. The Charminar is the hub of the city, has four wide roads radiating in the four cardinal directions. The four minarets command the landscape for miles. The structure is square, each side measuring 100 feet, with a central pointed high arch at the center. The whole edifice contains numerous small decorative arches arranged both vertically and horizontally.

Mecca Masjid : Close to the Charminar stands the Mecca Masjid, begun by Muhammad Qutb Shah in 1617 and completed by Quranzeb in 1693. It is a grand edifice with a huge courtyard, which can accommodate nearly ten thousand men at prayer.

Falakuma Palace : Another tourist attraction in Hyderabad is the Falakuma palace. The palace was home to the last Nizam and stores the most expensive art objects, tapestries and carpets, in addition to the largest single-man collection of diamonds.

Husain Sagar Lake : Between Hyderabad and its twin city Secunderabad lays the Husain Sagar Lake. This large artificial lake offers breathtaking views of Naubat Pahad, a hilltop crowned by the Birla temple.


Golconda Fort : The majestic and imposing monument which lies on the Western outskirts of Hyderabad city - Golconda Fort, unravels with it the 400 years of the rich cultural heritage of this city. Golconda has been known as famous center for diamonds, and the diamond mines boast of some of the most renowned diamonds in the world. The Kohinoor originally belonged to Golconda as did the Darya-I-Noor, the Orloff, the Pitt, and the great table of the Nizam. This massive fort is 11 km in perimeter and its walls are 15 to 18 ft high. The whole fort is built in granite and is flanked by 70 ramparts and 8 huge gates.

Best Season to Visit : Through out the year.