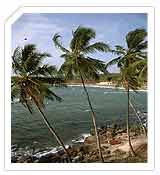 Kovalam is just 16 kms away from Trivandrum, Kerala's capital city. Kovalam is an evergreen and pleasant climatic beach resort. It is a dreamy place for tourists all over the world. Today Kovalam beach is known as the "Paradise of the South".

Kovalam is India's one of the best beaches for the travelers in the south of India. It consist of a number of small, palm fringed bays separated by Rocky Headlands. Kovalam is endowed with unusual beauty. The sheltered beach is ideal for sea bathing and is safe even during the toughest weather. The scenery around is enchanting and the drive to the beach through palm groups, refreshing. Ayurvedic massage parlours, yoga centers and water sport facilities, makes Kovalam a popular haven for tourists from all over the globe.

Best Season to Visit : Through out the year

Sightseeing at Kovalam -

The Kovalam Beach : Picturesque beaches, coconut fringes, the anglers' community, all sorts of fruits, palm beer, a large multitude of tourists swarming the sandy seashore, the lighthouse-all these are epithets that signify Kovalam, the exotic beach situated in the southern state of Kerala, popularly known as God's own country.

The coconut fringes, palm beer, seafood and the refreshing Ayurvedic massage, a relaxing sunbath and suntan facility of the beach are some of the reasons of tourist attraction. The beach also has some entertainment facilities like swimming, yogic exercises, fresh seafood and diving in the Arabian Sea.

Ayurvedic Massage : The Ayurvedic massage of Kovalam is very famous. At Kovalam many hotels and resorts offers the Ayurvedic massage and treatment. Yoga (Indian way of meditation) centers are also plenty in Kovalam. Some theatres perform the traditional Kerala art form, Kathakali and ethnic martial art, Kalarippayattu.

Catamaran Cruises : Catamaran cruises on the country raft is hugely popular in Kovalam, especially for watching the dawn and the dusk.

Angling for deep-sea fishing is in high demand with tourists coming up for vacations in Kovalam. Surfboards and boogie boards can also be hired on the beach.