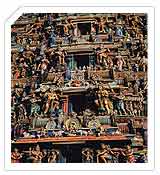 Chennai, (formerly Madras) the first city of Tamil Nadu, is a comparatively a new city. The erstwhile villages of Mylapore, Triplicane, Ezhambur (Egmore) etc. all now a part of Chennai, have a recorded historical past centuries older than Chennai. Chennai, the present gateway to the South of India, is itself, however, only about 350 years old.

Chennai, the fourth largest city in India, is the capital of the state of Tamil Nadu. The city has a decidedly colonial charm to it. The place has a fine manifestation of tradition and modernity. Among the many attractions of the city is the Madras Snake Park where over 500 species of snakes and reptiles are on display.

Sightseeing at Chennai -

Marina Beach : This expansive beach is Chennai's most famous tourist attraction. In Chennai, this is one ideal place for a laid back holidays. The beach is thronged through out the year by several thousand tourists, both domestic and international. The composed climate, the whispering sea, the shimmering sun and the soft sand are all that will make you beach holidays perfect.

Kapaleeshwar Temple : This ancient shrine dedicated to Shiva is centrally located and among the area's most popular landmarks. Lord Siva once pinched off one of the heads of Brahma to arrest his pride. A crestfallen Brahma came to this place, installed a Siva Lingam and did penance. The Lingam is known as Kapaleeswarar. This temple is known for a panacea from many troubles.

National Art Gallery : Tenth century paintings, religious statues and relics occupy one building while the other contains mostly modern works. Located in Egmore, the National Art Gallery is housed in a building built in 1906 in the Indo-Saracenic style of architecture. The building itself is a work of art and was originally intended to be the Victoria Memorial and Technical Institute but was made the National Art Gallery in 1951. On exhibition are 10th and 13th century bronzes, 16th and 18th century Rajasthani and Mughal paintings, 17th century Deccani paintings and 11th and 12th century Indian handicrafts.

Fort St. George : Built by the British East India Company in 1640, this walled military structure contains numerous important landmarks. This is one very striking structure of Chennai, a must visit.

Best Season to Visit : Through out the year, but best is between October and March.