1855 , The year when the majestic Fairy Queen rolled out for the erstwhile East Indian Railway. For the first time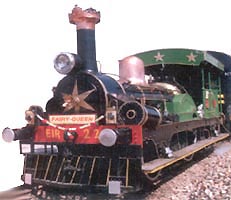 after 1908 , the Fairy Queen rolled again on Feb 1st , 1997 from Delhi to Alwar . The steam steam engine is the oldest working engine in the world . Finding its pride of place in the Guiness Book of World Records . The Fairy Queen , hauled by the world's oldest running steam locomotive holding the Guinness World Record and the National Tourism Award , is all set to roll magnificently on the tracks from Delhi to Alwar with the first trip of the current tourist season on Saturday the 26 th Oct 2002. There will be a total of nine round trips between October 2002 and February 2003.

The two day -one night package takes the steam aficionados and the wildlife lovers from Delhi to the Tiger Reserve in Sariska with an overnight stay on twin sharing basis in the luxury Hotel Sariska Palace . Nestling in the rocky Aravalli Hills , the Hotel Sariska Palace is also a heritage monuments quite close to the Wildlife Tiger Sanctuary.

The Fairy Queen locomotive hauls an AC chair car coach accomodating 50 tourist with an attached pantry car for on - board catering services to the delight of the holidaymakers. As an added attraction , the coach has a beautiful lounge in the front , which provides full view of the Fairy Queen while on run. The trip is brimming with amusement and recreation provided by a memorable revival of a chugging train journey supplemented with cultural programmes , theme dinner at the hotel , jeep safari to the Tiger Sanctuary providing a much needed break from the monotony and humdrumness of the modern life

Interesting facts & features on Steam Engine :
* 1855 : Built by Kitson , Thompson & Hewitson , UK for the erstwhile East India Railway ( EIR )
* Weight : 26 tonnes
* Coal Tender : 20 tonnes
* Water Capacity : 2000 litres ( under slung water tank )
* Horse Power : 130
* Gauge : 5ft 6 inch or 1.67 m ( Broad guage )
* Wheel arrangement : 2-2-2 Driving wheel diameter 1800 mm
* Max speed : 40kmph
* Cylinders : 2 Outside ( 12 inch x 22 inch )

Information on Sariska -
Famous for its Tiger Reserve where magnificient tigers, leopards, sambhars, nilgai, and cinkara can be spotted in their natural habitat. The town also has the ruins of 9th and 10th century temples. Sariska is an ideal leisure spot for those interested in wildlife and ancient architecture.Located right next to the world famous tiger reserve is the Sariska Palace. It offers 49 rooms with modern amenities in a gracious, old world ambience. Adding to the beauty of this hotel is the pure nature all around and the frequent roar of tigers !