Welcome aboard the Palace On Wheels on its splendid and enchanting royal journey through the bygone era of the e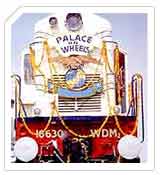 rstwhile Maharajas. On board the Palace on Wheels you will feel the magic of the royal Rajasthan and the amazing Agra. Colour, action, fun and frolic added with rich local culture and tradition create an ethnic ambience and attract large number of tourists to these Indian destinations every year. The royal retreat takes you through the hues of the pink city, city of lakes, national park and the elegy of love. The journey begins on the Wednesday night when the dinner is served onboard. The eight days' and seven nights' magnificent journey in royal splendour takes you across the tourist destinations in Rajasthan and Uttar Pradesh.

Palace-on-Wheels has been rated amongst the top ten luxury trains of the world. India boasts of other luxury trains too like the Royal Orient and the Fairy Queen. It happens to be one of the finest ways to travel through the intoxicating, incomparable, incredible, impressive, inimitable, inspirational land of India. Experience the royalty along side the cultural, architectural, natural and traditional richness that India has to offer on this terrific train - Palace On Wheels. The ambience and the aura make the astute feel to be living in the regal era. The train that is so true to its name, is bound, to enchant you. The comfort, the convenience and the charm are unmatched by any other train. The ease with which the entire trio will be covered is awesome.


Coaches of Palace on Wheels -

On board, you'll feel like an erstwhile monarch, travelling in regal splendour. Each Coach named after the erstwhile princely state has 4 twin-bedded chambers, thoughtfully decorated in ethnic Rajasthani décor. Channel music, intercom, attached toilets, running hot and cold water, shower and wall-to-wall carpeting are some of the facilities to make you feel at home. Each salon has personal attendants or Khidmatgars, who are at your beck and call to extend a courteous helping hand, should you need anything.