A wonder on wheels that carries you through the captivating world that is India - a civilization that has blended the p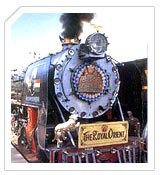 ast and the present as none has. A dreamscape where the dividing line between reality and fantasy gets blurred as you proceed, and each day brings forth experiences beyond your wildest expectations.

The Royal Orient is a joint venture of the Tourist Corporation of Gujarat Limited and the Indian Railways with thirteen coaches and saloons, The Royal Orient promises you seven memorable days and nights. Travel by night and take day trips to fascinating places.

Taste the pleasure of Raj culture, because your journey will take you and your family back in time of Maharajas. Weave through two of India's most culturally fascinating states, Gujarat and Rajasthan. Cross the great Indian desert at nights and take day trips to fascinating places by luxury coach.

The Royal Orient will transport you to palaces and forts steeped in legends of heroism and chivalry. One can feel the spirituality of an ancient Jain Temple city. Soak the feet in warm waters of the Arabian sea and laze on the beach. Safari in jungles to see the only lions outside Africa. Shop for exquisite handicrafts as old as history.


The Coaches of Royal Orient : The Royal Orient, a spectacular concept in transport; an aesthetic marvel of modern times. It is an opportunity to experience its princely grandeur; a possibility of redefining the word pleasure. Thirteen indescribably wondrous, beautiful, gold embossed saloon cars recreate the resplendent living of times of yore.