| | |
| --- | --- |
| | Hotels in India |









Home » Indian Cities » Cities of East India » Kolkata
Back » Kolkata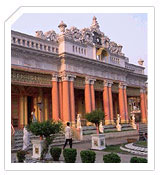 Kolkata, known earlier as Calcutta, is one of the four metropolitan cities of India. The capital of eastern Indian state of West Bengal, Kolkata is today the most important city of eastern India. The city was also the political capital of India in pre-independence period. A lot of credit for building Kolkata goes to the British East India company. Not surprisingly, Kolkata has some of the finest buildings built during the British period. Some of the landmarks of Kolkata like Victoria Memorial and Howrah Bridge are famous all over the world. Kolkata of today is a blend of tradition and modernity. Cynics look at Kolkata as a crowded and noisy place but optimists regard it as a real city of joy. In fact, this incredible city has a lot to offer to tourists.

Best Season to Visit : September-April

Sightseeing at Kolkata -

Victoria Memorial : The Victoria Memorial has some of the most memorable artifacts and collections from the British days. Now converted to a museum, the building was built using white marbles from Jodhpur as a memorial to Queen Victoria. The architecture of Victoria Memorial is very impressive.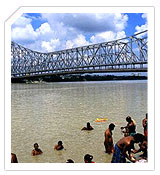 Indian Museum : Established in the year 1814, this is the oldest museum in India. It has some of the rarest collections of archeological importance. Over 2000 year old coins have been kept in this museum. The museum is housed in a beautiful building.

Birla Planetarium : One of the largest planetariums in the world, the internal diameter of the planetarium tomb is 82 feet. The planetarium has a capacity to seat 500 people and conducts regular shows in Hindi, English and Bengali languages.

Howrah Bridge : The Howrah Bridge is an example of excellent British engineering techniques. The bridge is 450 meters long and hangs without any towers in the river. Handling over 100,000 vehicles in a day, Howrah Bridge connects Kolkata and Howrah over river Hooghly.

Reaching Kolkata -
Air : Kolkata has an international airport. Regular flights operate to N.S.C. International airport at Dumdum from all major national destinations and many international destinations.
Rail : Kolkata has two major railway stations-Howrah and Sealdah. The metropolitan city is well connected to the rest of the country through the rail network.
Road : An excellent road network connects Kolkata to the rest of West Bengal and India. It is worth mentionable that the Golden Quadrilateral project will connect all the four metros of India through world class roads.