| | |
| --- | --- |
| | Hotels in India |









Home » Hill Stations in India » Hill Stations in Uttaranchal » Dehradun
Dehradun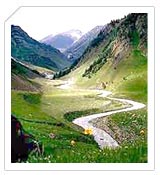 Dehradun is located on a plateau at a height of 640 meters, home of the Indian Military Academy and the headquarters of the Survey of India, an office which was established by Colonel George Everest, after whom the world's highest mountain has been named.

Ordinarily the term Doon meals valley. But in current colloquial usage it stands for the valley in which is located the City of Dehradun. The city lies within the lower scapes of the Himalayas and Shivaliks to the South and within the confines of the river Ganga to the East and the river Yamuna to the West.

Getting There -

By Air : There is an airport called Jolly Grant in Dehradun which lies unused.

By Rail : Dehradun is the terminus of the Northern Railway well connected to places like Amritsar, Howrah, Bombay, Delhi, Lucknow and Varanasi etc. A Delhi Dehradun Shatabdi Express has recently been introduced.

By Road : Dehradun is very well connected with highways to Delhi and other cities of Uttar Pradesh. It is also the Gateway city to the hilly regions of Mussoorie and beyond and is connected with them with good all weather roads.

Place Of Interest

Durbar Shri Guru Ram Rai : is a fortress like structure seems to have been built 300 years ago during the reign of Aurangzeb, when the Guru migrated to the valley and pitched his tent there. The Guru had a huge richly decorated flag and the locality around it was called the Jhanda Mohalla, the nucleus around which the new city of Dehradun gradually grew.

Forest Research Institute : is the only institute of its kind in Asia. It is located near the Indian Military Academy.

Robber's Cave : located 8 kms from the city near the cantonment is one of nature's phenomenon to confuse man, a stream of water suddenly disappears from sight and a few yards away appears again in a gushing stream. The cave is accessible by bus till Anarwala, a distance of 6 kms and the rest of the 2 kms have to be traveled on foot.

The Sericulture Centre : also located 8 kms away in Premnagar is well worth a visit.

Sahasradhara : about 14 kms away is a place which has natural sulphur springs.

Lakshmansidh : 12 kms on the route to Rishikesh is a popular shrine.

Malsi Deer Park : on way to Mussoorie is pleasant place set amidst sal forest.

---