| | |
| --- | --- |
| | Hotels in India |









Home » India Travel » Ayurveda and Meditation in India
Back » Ayurveda and Meditation in India
Ayurveda and Meditation originated in India some 6000 years ago. Since time immemorial, Ayurveda and Meditation is practised by the saints and sadhus of India. Ayurveda & Meditation is the natural way of cure for all body, mind and soul, practised in India when life was yet to start in other parts of the world. Today, Ayurveda and Meditation has become the first preference of every person all over the world for not only its vastness of curing capacity but also for it does not have any side effects, if taken under proper guidance. A tradition of health care that cannot still be explained by the strict logic and theories of modern medicine. And yet cures many diseases incurable to modern medicine. This green medicine is the most ideal way of medication to keep the body, mind and soul in balance.
Ayurveda & Meditation in North India
North India houses some most prestigious institutes of Ayurveda & Meditation treatment centres. All the treatment centres are set amidst the natural surroundings, giving its visitors enough space to breath in the natural atmosphere, a must for ideal way of medication. The Ayurveda & Meditation centres here has qualified doctors and trained personnel.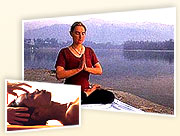 Ayurveda & Meditation in South India
South India has innumerable place for Ayurveda and Meditation. The dense green belt and the salubrious climate here is most favourable for the visitors who are here for the Ayurveda & Meditation treatments. There are Ayurveda and Meditation treatment centres at almost every city of Kerala. The centres of Ayurveda and Meditation with qualified doctors and trained personnel are the perfect place for all the cures, even incurable to modern medicines.