An island of 65,610 square kms, surrounded by the India Ocean lies the Isle of Serendipity....Sri Lanka.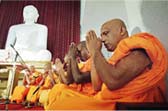 Coastal beaches merging into jungle and the hill country with peaks reaching a height of 2400 meters. You will find terraced tea plantations, water falls and lakes, unspoiled palm lined beaches with coral reefs, rice paddies, wildlife parks filled with animals in their native and much more...

Being a tropical country, the low lying coastal regions have a year round temperature of 27 C, Kandy averages 20-25 C and Nuwara Eliya 10-20 C.

Festival occur throughout the year. The most famous is the Kandy Perachera, the Festival of the August Full Moon at the Temple of the Sacred Tooth Relic of Lord Buddha, in the hill capital of Kandy.