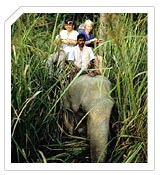 Places : Zanskar, Suru Valley, Kargil

grand old tusker trundling through the forests can be an awe-inspiring sight, and the biggest of all land animals, the Indian Elephant doesn't need to do much to attract one's eyesight.

In India the elephants are one very ideal mode of transporting in the wild areas. Sometimes they are also used to transport goods from one place to another. The elephant safaris are used to enjoy watching wildlife in the denser and remoter areas of India. There are several areas in India, which offers exotic elephant safaris through the remote wildlife reserves. Elephant is a very ideal mode to explore the treasured and dense park area. The Jim Corbett National, Kanha national Park, Bandhavgarh national park and the Dudhwa Tiger Reserve, all offers excellent elephant safari options.

The advantage of traversing on an elephants' s back is immense. At the top of the elephant you are safe from all feline creatures in the wild, non of which dares to come closer to elephants. Though, Elephant safaris are a bit slower than the jeep safari, it is one mode which will offer a real joy of being one with the nature around. On the elephant's back you can also hear the sound of the forest, as elephants move very slowly and silently.

Major Sites for Elephant Safari -

Corbett National Park : An elephant safaris in the Corbett region is very interesting. The elephant safari takes you through the mysterious thick forests, deep Valleys and the rugged trails of the Corbett National Park that offer a lingering thrill to the adventure seeker. From the back of the elephant you will come across numerous floras & faunas, you would not have seen before.

Kanha National Park : This Kipling Country has enormous assets to offer to its visitors. The best way to see them is from the elephant's back. Kanha is rich is tiger population. There are 175 varieties of birds in Kanha National Park. There are herds of spotted deer to be seen with smaller herds of spotted deer to be seen with smaller herds of beautiful antelope, the black buck. With a little luck, you could also spot the timorous barking deer. It's snapping warns other denizens of the forest that a predator is around. There is also a very strong possibility that you will see the rare Barasingha, the Swamp Deer.

Bandhavgarh National Park : Enter the park on elephant's back. Set amidst the Vindhyan ranges, the park has a series of ridges running through it. This park was the former hunting preserve of the Maharaja of Rewa and at present is a famous natural hub for White Tigers. White Tigers, now a major attraction around the world's zoos, were first discovered in Rewa, not far from here. The terrain is broken, with rocky hill ranges, running roughly east west, interspersed with grassy swamps and forested valleys. The park has immense population of flora and fauna.