| | |
| --- | --- |
| | Hotels in India |









Home » South India » Lakshadweep & Pondicherry »
Pondicherry
Back » Pondicherry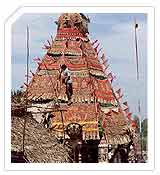 Formarly a French colony which has settled in the early part of the 18th century. Places of interest are Sri Aurobindo Ashram Auroville - the brain child of the mother and designed by French Architect roger Anger, AuroVille was meant to be an experiment in international living where man and women could live in peace and progress harmony with each other above all creeds.

Sightseeing at Pondicherry :

Aurobindo Ashram : The main building encompasses the houses of Shri Aurobindo and The Mother (Mirra Alfassa, a French woman who accepted Aurobindo as her spiritual mentor and guide and later became his most important disciple). In the courtyard are the samadhis of Aurobindo and The Mother where their mortal remains have been enshrined. The worth visiting at the Ashram complex are the International Education Centre, guest houses, libraries and the cottage industries.

Pondicherry Beach : The beaches are the best place to relax in Pondicherry.The 1500 metre long beach that borders the town on the eastern side is clean and is an ideal place for swimming and sun bathing. There are two monuments of historical significance on the beach. One is the 4m. tall statue of Mahatma Gandhi and the other is the War Memorial, built by the French in commemoration of the soldiers who died in the First World War. The Light House which stands 29m. high is further down the beach and is over 150 years old.

Churches in Podicherry : There are several of churches that are worthy of a visit. One of the most beautiful is the Church of the Sacred Heart of Jesus located on South Boulevard. It is built in the Gothic style and has three stained glass panels in a corridor behind the altar which exhibits the life of Christ. The Eglise de Notre Dame des Anges on Rue Dumas was built in 1865. The church has an oil painting of Our Lady of Assumption that was donated by Napoleon III. The Eglise de Notre Dame de Lourdes situated in Villiyanur on the outskirts of Pondicherry is built on the same pattern as the Basilica at Lourdes in France.

Temples in Podicherry : There are many temples in Pondicherry that were erected by the Cholas between the 10th and 12th centuries. Most of them are dedicated to the local goddesses of the villages where they were built. There are also quite a few temples dedicated to Lord Vinayaka or Ganapathy.

Auroville : It is about 10 km from the city centre. The place has been converted into a lush green cover from a highly eroded area, by 25 years of sheer hard work. Auroville, at the moment, is formed of several communities, scattered along the border of Pondicherry and Tamil Nadu.